Archives for March 2012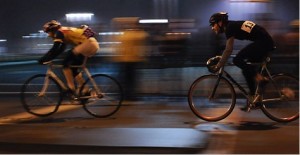 The Crystal City Business Improvement District, in association with Vornado/Charles E. Smith, Dandies & Quaintrelles (D&Q), BNA and Sciathan Productions, will be holding  the inaugural Crystal City Diamond Derby on Saturday, March 10, 2012 from 2PM to midnight. The event will be held in the parking garage at 1850 Crystal Drive in Crystal City turning it into a glitzy, urban cycling arena for the competitive cyclist, amateur biker and everyone in between. There will also be free activities for spectators.
According to the press release, "competitive cyclists can test their skills in obstacle courses with the goal of winning awards and prize money, casual cyclists can bike to the event in style and spectators can enjoy the action free of charge. The Diamond Lounge will be the hub of spectator activity, featuring a big screen displaying the on-course action, a cash bar and live music throughout the day. Cyclists and spectators can also get a breath of fresh air as they head outdoors for a midway featuring food, vendors and a wide-open sprint lane for cyclists."
For the complete schedule or to register as a competitor, follow the link to the Diamond Derby registration page.