Archives for May 2012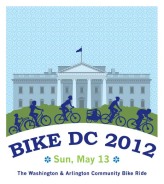 Bike DC, the annual Washington and Arlington Community Bike Ride, is being held Sunday, May 13th, 2012. From the Capitol and White House to Arlington Cemetery and the Air Force Memorial, from Pennsylvania Avenue to the George Washington Parkway, Bike DC is a non-competitive bike ride through the heart of our community and the heart of the nation.  The entire route will be car-free, and this year includes a section of Rock Creek Parkway first time.  The Full Ride is 24-miles long and begins at 7 am with a shorter 11-mile long Family Ride suitable for novice cyclists beginning at 7:15 am.
Registration is available online until 11:59PM Saturday, May12th and in person on the morning of the event near the ride start line at NW 3rd Street and Madison, on the Mall side of the U. S. Capitol, beginning at 6 a.m.  Advance registration fees are $40 for adults on the full ride, $30 on the family ride, youths ages 13-19 $25 for the full ride, $15 for the family ride.  In person registration is $10 additional.  Children 12 and under may register for the family ride for free.
For route maps, registration or other information, visit BikeDC.net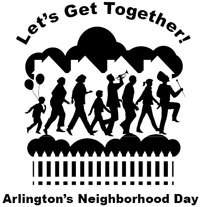 Saturday, May 12th, 2012 will mark the 12th annual Neighborhood Day designed to help make Arlingtonians connect with their neighbors.  Among the many events scheduled  are  a  BBQ for the Bluemont Civic neighborhood from 11:30-1:30 at Firehouse #2 on Wilson Blvd., a cookout in the Claremont Neighborhood at Claremont Mini Park from 11-2, a community yard sale and other family activities in the Nauck Neighborhood, a softball game between the Arlington Heights Fightin-Pineapples and Penrose Tracks,a Highland Park-Overlee Knolls Family Fun Day at Westover Library,  a Family Fun Night at TJ Community Center, Fairlington Day at the Fairlington Community Center, a yard sale in Ashton Heights, and a Neighborhood Day Festival and potluck supper at Dominion Hills Park from 4-7.  For a complete list and more information, visit the county website here.
Don't miss Tuckahoe's Elementary School's 12th Annual Home and Garden Tour, an annual fundraiser to benefit the Tuckahoe Discovery Schoolyard, on Saturday, May 19th, 2012 from 12:00 noon to 5:00 p.m.  This year's tour features nine homes, 1 home/garden combo and 1 garden.  Tickets are $20.00 in advance, $25.00 on the day of the tour.  Visit the website at www.tuckahoetour.org, or on Facebook for more information.
You can purchase tickets online or at  ONE MORE PAGE BOOKS  on May 12th from 2pm-4pm . Come browse around the book store, purchase your tickets to the tour, enter a raffle to win a beautiful centerpiece from Arhaus Furniture or an autographed copy of a garden book by Katherine Howell, and enjoy some light refreshments. Kids are welcome, and there will be a story-time featuring a lovely picture book! One More Page Books is located at 2220 N. Westmoreland Street, Arlington.

The 88th Annual Lyon Park Spring Fair will be held on Saturday, May 19th from 11-3 PM.  Take some time out from your errands and stop by to enjoy the festivities!  Lyon Park is located at 414 N. Fillmore Street, and is the only privately owned park in Arlington.  The fair, to be held rain or shine, will include pony rides, moon bounces, plant and book sales, carnival games with prizes, cake walks, vendor tables, music and more!
Have fun, and support the upkeep and renovation of the 88 year old community center and park!
Contact lpspringfair@aol.com or 703-527-6521 with questions!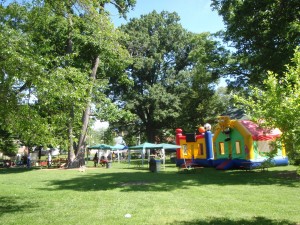 President Obama will visit Washington-Lee High School on Friday, May 4.   As part of the visit, the White House has invited W-L juniors and seniors to attend an assembly in the gymnasium where the President will talk about the importance of ensuring affordable opportunities for students for higher education, including federally-subsidized loans, to acquire the skills students need to find a good job in the future. The interest rate on these loans is scheduled to double on July 1 if Congress does not act to prevent that from happening.  The event is not open to the public.  Traffic around the school may be redirected and the W-L pool will be closed until 4 p.m.