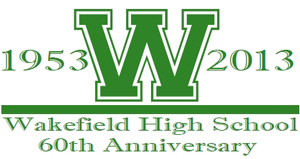 The 60th Anniversary of Wakefield High School will be celebrated with a weekend to honor the past 60 years in the current Wakefield building and a peek into the new Wakefield building which has been built on the athletic field.   Catch some memories before the "old" building is torn down and see what the future of Wakefield will look like. The general public is invited to attend the walking tours of the old and new Wakefield buildings on Saturday, May 18th.  Walk back in time through each decade, celebrate with all the alumni and see how Wakefield has contributed and changed the Arlington community over all these years.
May 17th, 2013  Friday
Hall of Fame Induction, Wakefield High School
1pm lobby reception
2pm Hall of Fame Induction
Anniversary Alumni Party 7pm All Wakefield Alumni invited.  DJ & cash bar. Sheraton Pentagon City.
Tickets on sale until May 13th – 12 midnight, wakefield60thanniversary.eventbrite.com
No tickets sold at the door.
May 18th, 2013 Saturday, Wakefield High School FREE &  OPEN TO THE  PUBLIC
10am-2pm  Walking tours of the old and new building, maps of school/event at table in each of 4 lobbies
Video Booth – Room 110, Video Booth, tape your memories of Wakefield, take photos with Totem pole
New building -11am-2pm hard hat tours of new building every 20 minutes, line up at end of parking lot near new building to await your tour.
Drama Interest- Meet in auditorium 1950's 12noon, 60's at12:20, 70's at 12:40, 80's at 1pm, 2000 & beyond 1:40
Athletic Interest –  Meet in  Large Gym  FALL sports meet at 10am, WINTER sports 11:45, SPRING & TRACK MEET 1:30pm
Spirit Teams Interest –  Meet in Gym all day
History Fair – Small gym- take a stroll through the decades.
Latin Interest –  2pm meet in small gym
Wakefield gear- in lobby outside big gym-  fundraiser for Booster Club and Soccer Team.
Food Court –Cafeteria   Current Wakefield fundraising student will sell international foods, PTA offers coffee.
Reunions  Saturday evening
1963 (50th reunion) Washington Golf & Country Club, reservation required
1965-1967 (and surrounding classes) Bailey's Pub & Grill, Ballston mall, 7:30pm
1973 (and any alumni who wish to come) 7pm, Sheraton Pentagon City, 15th floor, DJ/Karaoke cash bar, great views of Washington skyline.    Get tickets online at   W73F.eventbrite.com  or buy tickets Saturday in small gym 10am-1p
1983(30th reunion) 8pm Monty's Steakhouse
2008 (5th Reunion) 8pm Bungalow Billiards in Shirlington
The anniversary celebration is sponsored by the Wakefield Education Foundation, a non-profit that grants scholarships, connects alumni and preserves the history of Wakefield.  More information can be found at wakefieldalumni.org.
—