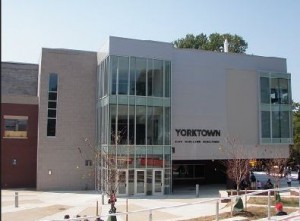 The Arlington community is invited to attend an open house at Yorktown High School on Saturday, October 30th, 2010 from 1-3 p.m.  The open house is a celebration of the completion of Phase I of the capital improvement project.   There will be performances by the Yorktown dance team, cheerleaders and musicians on the school's front plaza.  Visitors will be able to tour the new technology-enhanced classrooms, art studios, laboratories, cafeteria, family and consumer science lab, TV studio and performing arts spaces.
Alumni of the school are also encouraged to attend and should stop by Room 222 for alumni activities.
For more information on the open house, call 703-228-6004.